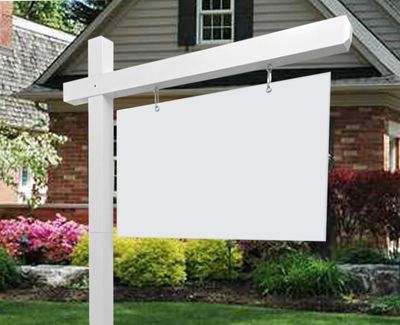 Exclusive Signs is proud to work with local real estate agencies/ agents to provide them with sign installations for their listings. We offer professional sign installation five days a week for your convenience. Let us know what your sign needs are, and our team will work tirelessly to provide you with a sign installation you can trust to do most of your advertising for you. We also take care of the removal and storage of your sign.
We serve Langley, Surrey, Whiterock, and more. See our Zone listings and pricing for more information. Every sign installation is with a white vinyl or white aluminum post, creating a stunning, professional look. Our posts do not rot, fade, or warp, and they hold signs up to 36-inches wide. We use a heavy duty steel stake anchoring system to secure the post in the ground.
Please note that orders placed by 5:00 pm are generally completed within 48hours. Any changes to the post address or post location on your property, unless initially requested, need to be called, texted or emailed into Fred or will be at your expense. Please ensure that we have an accurate address and flagged location on the property for your sign to guarantee efficient installation and avoid re-installation charges. Removal of post only done by Exclusive Sign employees. No third Party.
Exclusive Signs is not liable for any damages arising from any installation. All gas lines, waterlines, sprinkler lines, or underground lines must be clearly marked before installation. All surveying and "call before you dig" costs are the responsibility of the customer, realtor, or homeowner.
Place your order online via our login portal or give us a call! Thank you for choosing Exclusive Signs!